I just crossed 20,000 notes in Evernote, so I thought now might be a good time to update my occasional series on Evernote. Early in the life of RestartGTD I used to manually count up Evernote pages and track them.
Unfortunately my original note counting methodology was a hack that did not work accurately. Because Evernote has added monthly note counts, here is an example for my account as of December 25, 2016, look for the red arrows 1/3 of the way from the left, near the top of the page: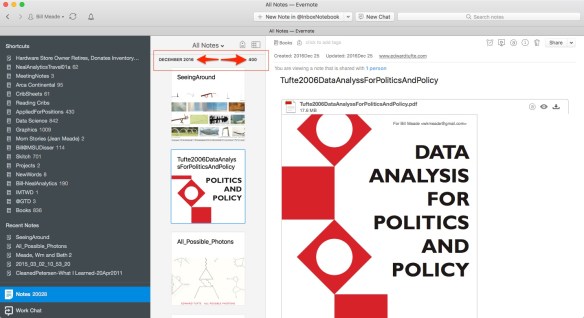 So, since I can use these Evernote generated non-hack counts, I decided to take a trip down memory lane and scrape out the monthly totals for the 102 months that I've been an evernote subscriber.
Here is the previous total and the more accurate Evernote-generated total note count for 102 months:
The count totals diverge in 2013 where SKITCH started defaulting to saving in Evernote. But I suspect that the convoluted "trick Evernote into counting notes" method that I was using, was in a word "bad". Anyway, I trust the monthly total that Evernote now generate as it predicts the actual number of notes in my account within 2 notes. All comes back but 2 tablespoons! (notes)
So over the 102 months of Evernote, I've increased my usage of evernote month by month from 1 note per month on average, to almost 200 notes per month. Here is the same graph plotted with a rolling average notes per month plotted on a second Y axis in Excel 2016's "hideous orange":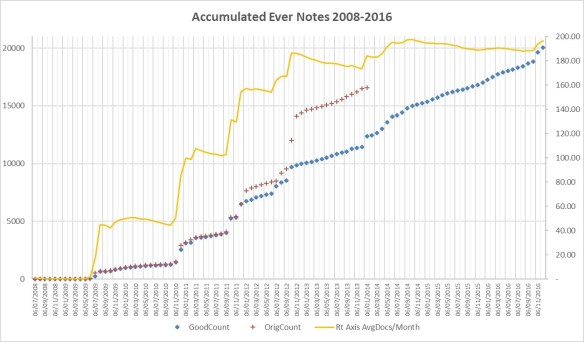 I continue to use Evernote as my GTD reference filing system … only. I've tried tracking projects in Evernote but prefer OneNote for detailed next action decomposition work. But as a reference filing system, Evernote has definitely achieved "roach motel" lock in of my information. The pattern in the orange average is very "ratchet" like. Jutting up, drifting down, but then jutting up again, and again.
bill meade