As I was depositing a check with my ScanSnap this morning, I had the idea that I should post a few ScanSnap GTD tricks. Then Joe Terrana posted a comment to the 2014 Getting Started with Getting Things Done post, with a cool *new* trick.
Source: Amazon.com
Go to Amazon, then order this custom rubber stamp, and then follow the instructions to "Contact Seller" and send them "Next Action" as the message for the stamp.
Then once the scanner arrives, you can stamp paper with "Next Action" scan the paper into Evernote (Click here to subscribe to Evernote), and then after Evernote does optical character recognition (OCR) on the stamped part of the note, you can search for "Next actions" and find all of your scanned next actions.
Very slick.
Very Simple!
Thank you Joe for the ScanSnap GTD Trick #1.
bill meade
p.s., I had the idea, since Evernote also attempts to recognize hand-written characters, that I could scan a note card with "Next Action" on it, and perhaps achieve the same result as using a custom rubber stamp. Here is what the card looks like: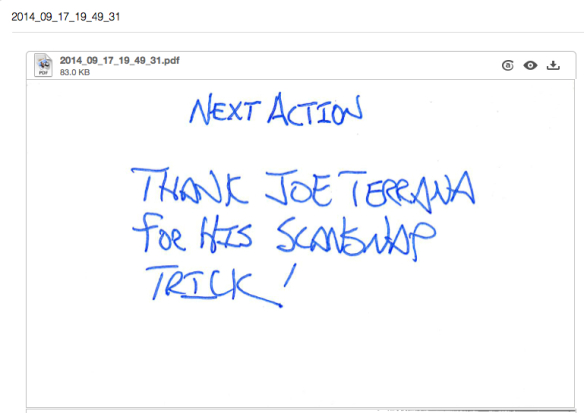 Expecting Evernote to be able to read my handwriting is not a fair test, I know. But, it seemed like a fun trial. Evernote's explanation of how OCR works says that it take a "few minutes." I've always assumed that Evernote takes "over night" to complete OCR operations, so we'll see how long it takes for this note:
1st check on indexing status: 20 minutes later … not indexed.
2nd check on indexing status: 11 hours later … not indexed.
3rd check on indexing status: 23:10 later … not indexed.
4th check on indexing status: 33 hours later … INDEXED!!!!
However long it takes, I'll update this post after Evernote indexes the card to see if it is possible to simply write "Next Action" and have OCR recover the magic GTD words.
You can tell if an Evernote note has been indexed by clicking on the i at the upper right of the note:
And then looking at "Attachment Status" 3/4 of the way down the dialog box (red arrow).
While it is true that GTD indexing can be measured in minutes 33 * 60 = 1,980 minutes. It is not a safe workflow to depend on Evernote scanning documents immediately.
Success … kind of
After my index card was OCR'd by Evernote, I am able to search for the word "Next" but alas, "action" in my hand writing was not recognized. :-(
I was not able to determine precisely how long it took for Evernote to do the text recognition.
Lesson Learned:
You can buy a self inking stamp, and Evernote will read it. Thanks again Joe Terrana for giving me the stamp idea, so I could have the stepping stone idea of just writing "next action" on the card.
It would be smart to create a sample card for yourself, scan it, and then see if Evernote can recognize your hand writing. In fact, if you've already written "next action" on a 3×5 card that you scanned into Evernote, you might be able to test this out today. Just search on the GTD Magic Words!