Introduction:
GTD Desk 5.0 with 2017 iMac
The first post on this blog, 2011/12/31 GTD Desk 2.0, had as its centerfold, a 2008 24″ iMac on a monitor arm with a hideous array of accessories mounted out of sight. Flashback:
2008 24" iMac on VESA adapter (anyone want the VESA adapter?)
The purpose of this post is to update post 001 (today's post is 185) over seven years, and two iMac generations.The previous two posts on GTD Desk 5.0 covered desk resurfacing, and a sit/stand upgrade.
However, in addition to these upgrades, I have also graciously accepted Apple's offer to take my money for a new iMac (first full iMac refresh in 6 years!) when I bought a 2017 iMac. The 5.0 update adds an external DVD drive on the left, with a 4 port USB hub, a board which allows speakers to be mounted to the iMac stand, and kept for the most part, out of sight.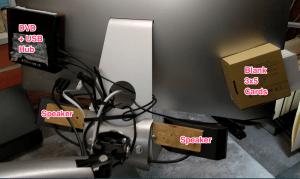 Finally, on the right is a cardboard box that holds blank 3×5 cards to keep one piece of paper, available to capture ideas. The entire iMac back, remains a hideous melange of cables, cables, cables. But, I don't care, I don't have to look at them. Out of sight, out of mind … like water. :-)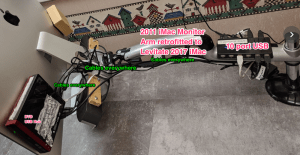 The best innovation of GTD Desk 5.0 is mounting of speakers up behind the iMac screen, angled down, to bounce sound off the desk almost invisibly. Step 1 bolt the speakers to board, step 2, tack the board to the iMac stand with two wide headed screws.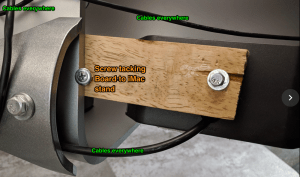 Step 3 mount audio control on the base of the iMac, to make practical use of the impregnable iMac stand. Alas. But, mount a sound control on the base, and you can at least get SOME use out of it.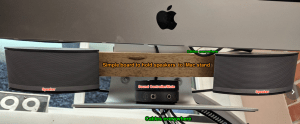 Why not use the stand integrated into iMacs? Simple, because I need a desk, not a giant monitor stand. If you don't have your monitors floating free, you don't have a desk that can do rough organizing.
The final upgrade to GTD Desk 5.0 is the addition of the Jabra 510 speakerphone to the lower left hand corner of the iMac. With Google Voice and the Jabra, I have at long last recycled my office phone. More clear desk space!
bill meade