Before: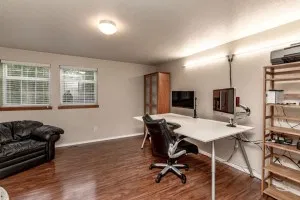 Fixed Height Desk - (Modified) Galant Conference Table from IKEA
After: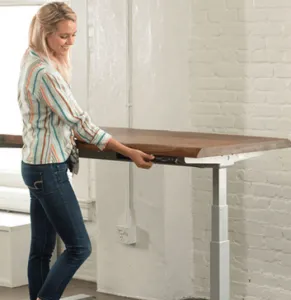 After starting a new job in January 2017, I discovered the awesomeness of sit/stand desks. And since I was moving, and had the Perfect GTD Desk V4 in pieces, I decided to replace the fixed height legs with a sit/stand mechanism.
Most important = lift capacity of the mechanism, second most important = cost. Searching the internet while the moving van was crossing the country, I found StandDesk which has a 350 pound lifting capacity, and cost $429 delivered. I ordered my StandDesk from Amazon.com but alas, Amazon no longer sells StandDesk mechanisms.
Fear not, StandDesk sells the bases now for $399 without top. The telescoping mechanism is different, but no worries, the lift capacity increased from 350 to 400 pounds.
Why does lift capacity matter? Because I hang a 27″ 2017 iMac from an arm, iMacs weigh one pound per diagonal inch of screen size, so the iMac with USB hub, Bose speakers mounted hidden, along with the floor tile re-covering of the desk, Scanner on the desk, and heavy computer building projects, make me want max lift capacity.
After After: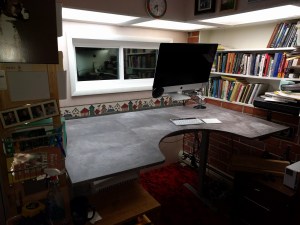 The work surface has a minimum height of 24.5″ and a maximum height of 50″ which is way more flexibility than my at-work sit/stand desk.
Next post will be "Perfect GTD Desk V5.0 Upgrade! - Part 3 Back of the iMac" where I reveal how I finally moved my speakers out of sight, without impairing sound. Two bolts, four screws, one piece of wood, and ZAP, sight-lines clear.
Bill Meade