Warm Booting GTD: Building A New Trusted System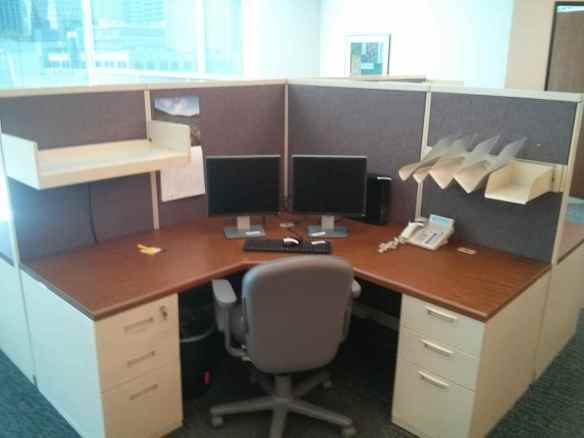 ≈ New Job Desk 1.0
Just finished my first week at a new job. I'm now a senior data analyst at a health insurance company. The above picture is not my desk (once again I've neglected to take EXACT before pictures of my desk projects). But, the above desk is in the same position vs the window, on the same floor, and pretty much the same shelving and monitor setup as my new work desk, when I started on 2014/07/14.
New Job = New Set of Constraints on Organizing
I've worked with engineers (software, chemical, nuclear, mechanical, electrical, industrial, ….), and even worked inside a legal department once. But this is my first time working with: (a) actuaries and (b) health data. So there are a couple of constraints thrown into my GTD trusted system's design:
No Evernote allowed
Installing Evernote would break data security rules and get me fired. Too bad as I am a huge fan of Evernote.
Trusted system hermetically sealed great wall of China
My work trusted system must be separate from the system I've built up over the past five years. This is interesting because the result at first cut, is a severing of my personal life from work. David Allen says this can't really be done. We'll see how big a GTD impact separate hermetically sealed trusted systems are.
No spending money
Very strong culture of minimizing costs.
First law of marketing is that problems are opportunities. So setting up a new GTD system with constraints, is always fun. It is the constraints that set you free. (*Note* I'm pretty sure that Mr. Bartlett my Jr. year in high school said that "Beethoven said 'The rules set you free'" but I've never been able to track that quote down. So, if you know who really said it, please email me at [email protected] and I'll update the attribution here.).
Time for GTD Eduction! That is e-duc-tion (as in e-quack-tion … not education)
  "In his enchanting novel, A High Wind in Jamaica, Richard Hughes
describes a group of children who have been kidnapped by pirates on
the high seas and are stowed away in the ship's cabin. One little
girl is lying there, staring at the wood grain of the plank wall 
next to her. She sees all sorts of shapes and faces in the grain, 
and starts outlining them in pencil. A whole fantastic scene 
appears. 
We've all done this kind of doodling: projecting shapes onto
something, then fixing and cleaning up the outlines so that the 
raw material comes to really look like what we imagine it to be.
When the child completes the gestalt of the wood grain, there is 
an encounter between the patterns given by the seemingly random 
swirls of wood grain residing outside the child and the patterns 
given by the child's inner nature. The wood grain (or tree, or 
rock, or cloud) educes, or draws out of the child, something 
related to what the child knows, but that is also more or 
different than what the child knows because the child is both 
assimilating the outside pattern ... and accommodating 
... to the outside pattern. 
Here we can see why in the process of making artwork we are able 
to generate ... surprises. The artist has ... training, 
... style, habits, personality, which might be very graceful and 
interesting but are nevertheless somewhat set and predictable. 
When, however, [s/]he has to match the patterning outside him with 
the patterning [s/]he brings within his own organism, the crossing
or marriage of the two patterns results in something never before 
seen, which is nevertheless a natural outgrowth of the artist's 
original nature. A moire, a crossing or marriage of two patterns, 
becomes a third pattern that has a life of its own. Even simple 
moires made from straight lines look alive, like fingerprints or 
tiger stripes."
Nachmanovitch, Stephen (1991-05-01). Free Play: Improvisation in 
Life and Art (Kindle Locations 1025-1041). Penguin Group US. 
Kindle Edition. BOLD, link to moire and [s/] added.
So bring on the constraints in educing a trusted system! The more constraints, the weirder the constraints, the greater the "surprises" in the GTD system.
In my next post I'll describe the new GTD workflows which I'm evolving, and share more pictures.
bill meade