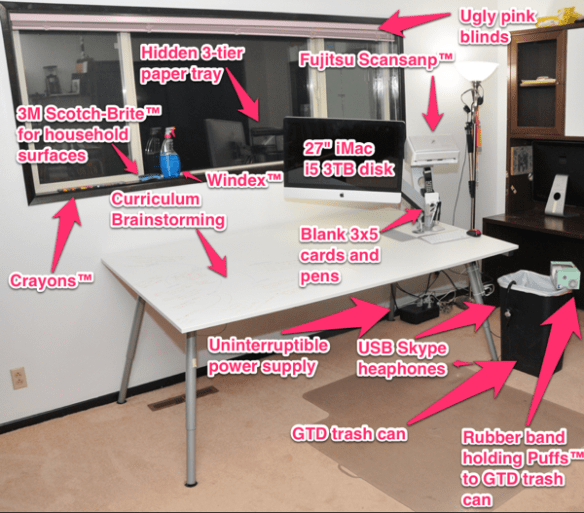 Introduction:
Confession:
I've been holding out on http://RestartGTD.com.  :-(
I've been working since April 2012 on a successor to my "The Perfect GETTING THINGS DONE (GTD) Desk" post (which is the most read post on this blog).  1.5 years after we moved to the Portland area, Beth and I bought a house which allowed significant expansion of the good enough home office desk.
As a sufferer of chronic rhinosinusitis, I've found the need to keep facial tissues close at hand.  In fact, VERY close at hand as tissues go from box, to my face, to the trash in one choreographed motion.  So in the new house I have a GTD trash can.
And
my desk work surface is expanded from a merely "big" desk into an "Ikea conference table" sized desk that is 77″x43″.  I bought yet another Innovative 7500-HD-1500 monitor arm to hold up my 27″ iMac i5. I know that $260 for an arm seems exorbitant, but getting the computer off the desk is the best money you can spend in taking back your desk.
Also, if you've got a wall that you are facing when you work, you can get a monitor arm for $30 that will be great for giving you back your desk.
Anyway, to be optimal, I should have gone to IKEA and bought a conference table surface for $65 in the "as is section" but, I did not realize that the components I needed for my upgrade of "The Perfect GETTING THINGS DONE (GTD) Desk" would be available in the as-is department.  So, instead of saving 35%, I bought the full price $229 brand new white GALANT conference table (instead of the $65 as is white conference table).  I bought new adjustable Galant A-legs for $15 each, but in thinking about it I could have gotten away with buying 2 new fixed length Galant A-legs for $10 each and then 2 adjustable legs.
Driver's eye-view of the Perfect GTD desk +1
OK Bill, what is behind the monitor?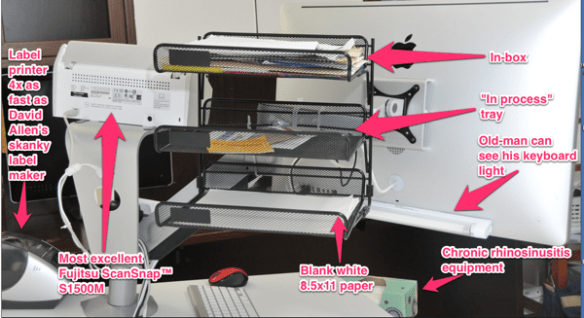 Well, as usual, there is a lot going on behind the iMac.  I've used cable ties to attach a 3-tier paper tray to the Innovative hd monitor arm.  *Note* because the iMac and paper tray are hanging off the monitor arm, there is an angle that I had to compensate for with the paper tray.  Why? Because if you can't get the paper tray approximately level, then you'll have paper splashing on to your work surface.  = Unpleasant.  Here is a shot of the angle compensating cable tie.
And the indispensable ScanSnap S1500 rests on the base of the monitor arm. It is visible, but not when I'm looking at 3×5 cards on my desk.
OK, what is going on under the desk
Excellent question!  Here is a macro shot of the under side of the desk: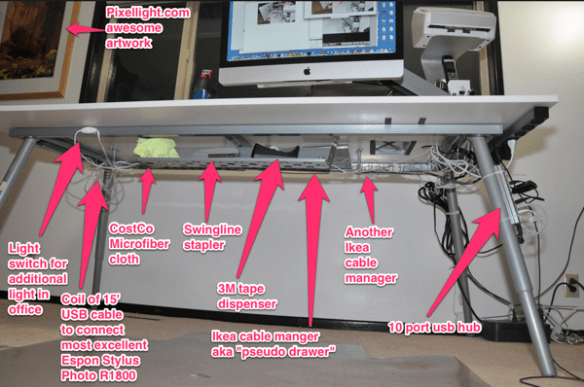 Once again I've availed myself of IKEA to provide pseudo drawer space as well as plain Signum cable management (US$10).  The Galant cable management tray (US$5) works as a static drawer.  Desk tools that conventionally clutter up desk surfaces are verboten in my conception of the perfect GTD desk.  So, I mounted the Galant cable tray a bit back from the front of the desk (to avoid hitting it with my knees), but still in easy raeachability.
In addition to microfiber cloth, stapler, and tape dispenser which are immediately available, I also keep a pocket knife and an eraser readily at hand.
Crayons?  You think Crayons are cool?
Well, in short, … I don't know what to think about crayons.  Crayons come with memories, fun, and … crayon mess: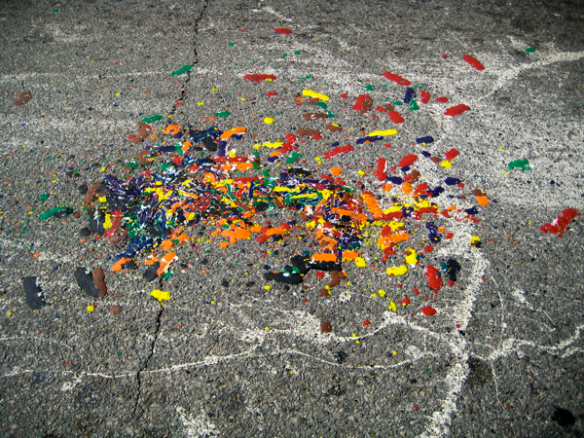 Source: MissionMission.org
which … I'd forgotten about since I was 5.  But, still, writing on an IKEA conference table with Crayons™ is a great option if you are into crayons.  They come off with Scotch-Brite No SCRATCH sponges and Windex.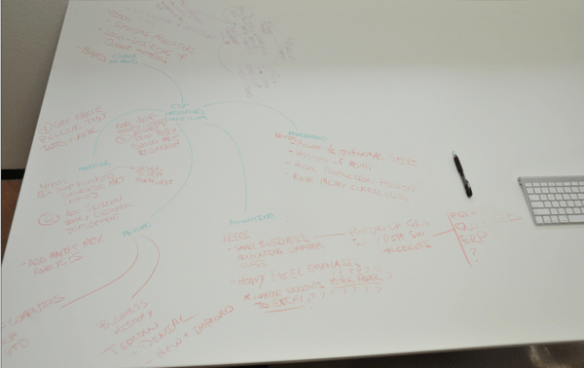 Crayon mind mapping
(about moving ERP into b-education)
48 years after giving up crayons!
I felt giddy playing with crayons as a 53 year old!  The crappy wax mess that falls off the crayons, the problem of sharpening a crayon, the inevitable anger resulting from trying to sharpen a crayon in a pencil sharpener, the flash back to the 64 crayon set that had a sharpener in it (At least until you broke the first crayon off).  I found myself thinking about all the downsides of crayons as a dumb smile came over my face and I created a complex mind map that felt "just a little bit permanent."
Buy crayons, write on your IKEA conference table, undo all the art formerly-known-as-damage, with a Scotch-Brite pad and Windex.  Fondly remember the voice of your mom yelling at you about using crayon on the table/wall/sibling.  You own the conference table, you can do with it whatever you want!!  Fun memories!
Improvements
First and foremost, except for legs, you can make-do in building your desk by shopping the AS-IS department at IKEA.  This will peel about 35% off the total cost.
Second: grommet management.  Move the grommets away from where you will work most at your desk.  For me that is working at the computer.  And, place Signum cable grommets out of sight if you can.  You can't control where the cable runs are, but you can control the wires between cable runs and move them out of sight.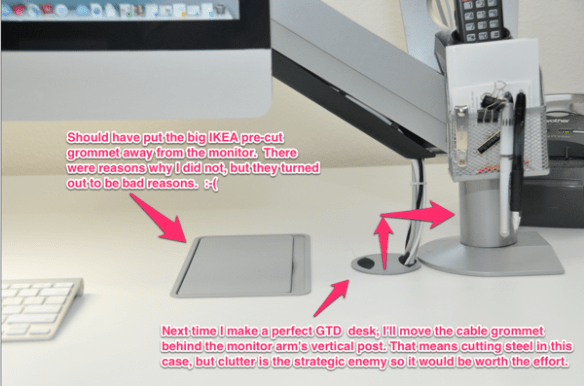 Third: Find a work surface that does not have a pre-cut grommet in it.  I like the simplicity of IKEA parts, but I was forced to remove the monitor arm and re-place it through the steel support deck, because the particle board of the surface was not able to carry the 50 pound load of the monitor arm and items hanging from it.
Thank you.  Thank you.  Thank you for 2012!!!
So we are just almost exactly at 1 year into http:restartgtd.com and about 130,000 page views.  The blog really started with the "The Perfect GETTING THINGS DONE (GTD) Desk" post which Lifehacker kindly picked up, and we are about at the end of the year with this Perfect GTD desk +1 post.  I'd like to thank everyone who has read, everyone who has commented, and especially everyone who has emailed back channel to [email protected] this year.  I've had a blast opening my GTD kimono.  And it has been fun sharing the GTD love and enthusiasm with you.
May this year bring a happier, more robust recovery, and smarter GTD thinking than any year going before.  You guys reading this rock.  Let me know how I can help in 2013!
Support RestartGTD by buying at Amazon.com from this link!
bill meade