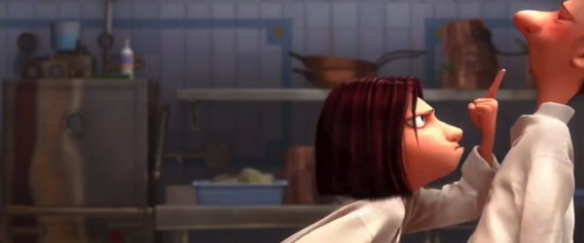 "Keep your station clear, or I will kill you!"
http://www.youtube.com/watch?v=GgiK-HWKPjw 38 seconds
Source: Ratatouille
Introduction:
I left a browser tab open with Greg Bauges' "Code Like A Chef: Work Clean" blog post to remind myself to create this short blog post on the cross disciplinary evil of clutter. Clutter is the strategic enemy of productivity, calm, creativity, and discovery. From kitchen to garage to office, clutter tells you that you have not organized for what you are doing.  So, potentially, you have not decided what you are doing.
Sound bits and bites from Greg's post:
Thomas Keller (chef) bits and bites
Being organized - … 'working clean' - is a skill to develop
Organization is about setting yourself up to succeed
Clean as you go to avoid clutter
Clutter interferes with the cooking process
Greg Gauges (programmer) bits and bites
"Working clean" is the most valuable concept I've adopted from the kitchen
Working clean takes two forms: physical workspace, virtual workspace
I am continually cleaning my virtual workspace
Email does not stay open
The goal of a professional programmer is to produce clean, organized code
We can avoid pressure by keeping our systems, our code, and our design as clean as possible
This post reminded me of the scene in the animated movie Ratatouille where Colette (Jeaneane Garofalo) teaches Remy (Patton Oswalt) how to cook by avoiding clutter's complexities "You cannot be mommy!"
On Clutter:
What I've learned about clutter:
1. Clutter happens when I do not have places for things
Example: Reference filing materials in piles on my desk before using Evernote
Fix: Creating Stations (See THE HOUSE THAT CLEANS ITSELF) with everything you need to complete a specific task, kept out of site until you are doing the task.
2. I am bi-polar about clutter.  I can be repelled by clutter, or, I can knowingly run into the burning barn of clutter
Example: Mindless internet surfing
Fix: Understand why running into a burning barn seems good.  Usually, it is fatigue-generated for me. Naps are important, but I have a hard time taking them. Exercise is also important, etc.
3. A clear desk and focused work environment (i.e., lack of clutter) pierces the armor of resistance to people hearing about GETTING THINGS DONE
Example: I worked with an accountant at a big firm this year. My GTD implementation process is to get desks 100% clear, get all reference materials into Evernote, and then get a simple 3"x5" card and manila folder system set up for projects. The accountant's desk was by no means messy, it was just cluttered with every possible tool that might be useful. Clearing the desk, once everyone realized the accountant was not leaving the firm, brought peers and senior managers to ask about how they could implement.
Fix: I think we unconsciously hate the clutter we create at our work stations. Try nuking all objects that are in your field of vision at your desk computer. Just try it
bill meade