Source: Problogger.net
Introduction:
GTD's natural planning model (Ch 3) is my silent secret GTD weapon.
Let Me Explain:
While an undergraduate, I was plagued by writer's block.  Then, I discovered Gabriele Rico's (1985) WRITING THE NATURAL WAY, and the concept of "clustering" (today called mind mapping) …
Source: Gabrielerico.com
… "trial web shift" feeling the time when mind mapping can graduate to writing, became tools for me.  Discovering the tools in WRITING THE NATURAL WAY gave me *tingles* of recognition.  I could not articulate why they were important, but I immediately knew.
Next, I discovered Betty Edwards' DRAWING ON THE RIGHT SIDE OF THE BRAIN which is really the drawing analog of WRITING THE NATURAL WAY.  Each book broke its domain down into a set of 5 or 6 orthogonal tools, that empowered the reader almost immediately to be able to articulate creative constructions on paper.  As I drew my own hand in perspective for the first time  ….
Source: Praterposte
… again, I had *tingles* of recognition that I was exercising an important new skill.
Enter time (25 years), a Ph.D., three kids, moves, jobs, 5,000 books, 94,000 pages of personal papers, and finally in 2009, GETTING THINGS DONE. All this time, mind mapping laid mostly dormant.  I had tried to incorporate mind maps in my work, but I found that I could not show them to anyone without being stereotyped as "a creative" which meant in effect "so heavenly minded, no earthly good" + "unable to follow through."  So, I kept mind maps to myself, and gradually stopped using them.
When at the opening of chapter 3 of GTD, I heard these words (I was listening to David Allen's recording via Audible
/Begin *Aside* My students say that David Allen and George Clooney sound exactly the same
Separated at birth?
Source: David Allen, George Clooney
… so if you like Clooney, you'll love the Audible version.
/End *Aside*
I've found the biggest gap to be the lack of a project-focusing model for "the rest of us." We need ways to validate and support our thinking, no matter how informal.Allen, David (2002-12-31). Getting Things Done: The Art of Stress-Free Productivity (p. 55). Penguin. Kindle Edition.
I had the by now familiar *tingle* that I was about to put my hand on a new power tool.
 Source: Discovery Channel - Thrill of Discovery — Ars Thanea
The five phases of project planning, i.e., the natural planning model, knitted together the long dormant clustering/mind mapping, organizing, with the big question "why am I doing this?"  So, David Allen had brought to project planning and management, the same 5 or 6 tool kind of thinking that I had experienced in WRITING THE NATURAL WAY, and DRAWING ON THE RIGHT SIDE OF THE BRAIN.
Source: eBay.com
And something else.  David Allen emphasized not trying to do all phases at once, not trying to use all the tools at once.  GTD's separation of many of its tools (The five phases of natural planning, Processing stuff from doing next actions) are on of the simple things about GTD that I love most. I now consciously think about doing just one thing at a time.  Time was invented, after all, so everything would not happen at once.
The five phases of natural planning gives an older person, a unique vantage from which to observe college students.  If you don't have any in the house or on your 1040, let me refresh you that in terms of GTD, college students by default, insist on doing all phases of projects at once, using all organizing tools at once, and repeatedly plead the value of a looming deadline, to make them productive.
And I have to confess, that I fall into this exact same pattern when I fall off the GTD wagon.  Natural planning out the window and reactive planning back in control.
Silent/Secret
With natural planning's five phases, I've found:
It is easier to break out of reactive planning. I just need to think of how much easier natural planning is, than reactive planning.
I don't need to hide mind maps any longer.  Being branded as a creative = no follow through has been replaced by being branded as "That rare creative with great follow-through."
I think this is because the natural planning model allows you to keep the momentum you build generating ideas, and spill it without missing a step, into organizing and next actions. When people observe you grinding through problems with the natural planning model, the cynicism that often pervades workplaces, is suppressed.  People step back and say "Whoa! … What was that book you were talking about again?"
Restarting Natural Planning
My emphasis on a lot of open desk space is driven by the five phases of natural planning.  I need to spread out ideas, paper, artifacts.  And, my open desk space often calls to me "Biiiiillllllll put some paper on me, let your ideas oooooouuuuuuuutttttttt."  But I find, that probably as much as I resist weekly reviews, I resist using natural planning as often as I should.
Source: http://www.resistancefallofman.com/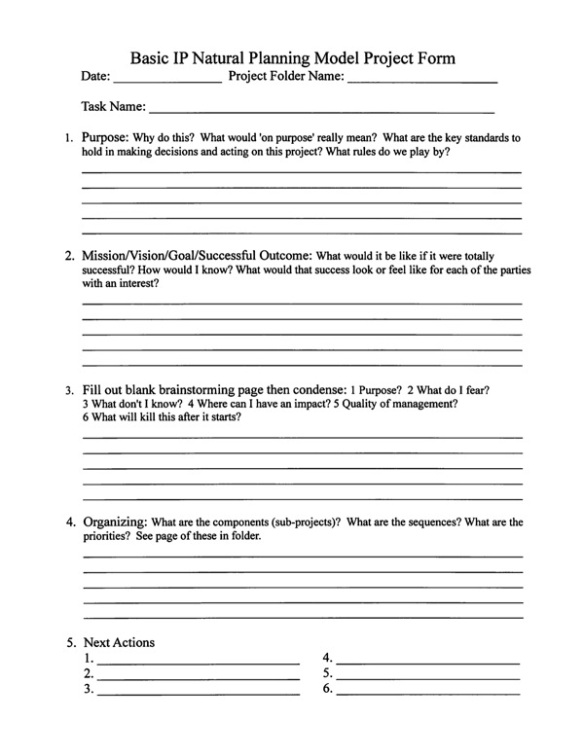 PDF available here.
Hope this helps!
bill meade