I've Tried Evernote … but I don't use it
OK, it is possible that I've raved about Evernote. Perhaps you installed Evernote and paid for an account based on my recommendation or a step-by-step. But, then … you never reached critical mass with Evernote. And your Evernote account has gone dormant. And, you've fallen off the GTD wagon. If so …
This post is for you.
The stumbling block with Evernote is that it comes in two pieces: (1) A database piece that takes care of reference filing, and (2) a web-browser-plug-in that takes care of sweeping all worthwhile internet content into your reference files.
Most people install the database and are so tired after getting their minds around yet-another-software-install, that they don't go "ALL THE WAY" to having the on-ramp, the web-browser piece, installed. The on-ramp never gets installed, so the database never builds.
If this is you, follow these steps to rejuvenate your Evernote (reference filing) experience.
Or if you are using FireFox you can click "Download for Firefox" like this:

Or, if you are using Internet Explorer for Windows, you are in the same boat as Safari users. Sorry. You have to use Chrome, Opera, or Firefox.
Whether you use Chrome or Firefox on Mac or PC, your mission, should you choose to accept it, is to install Evernote Clearly into your browser.
Click the download link and take the defaults to the questions that pop up, and then you should see a Luxo Lamp icon in your Mac or PC browser. Look for something like this: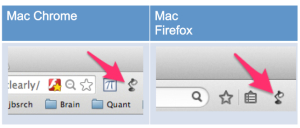 Now, you have Clearly downloaded and installed. Let's go to the world's ugliest web page: PCMag.com. When you arrive the page will look something like this:
Source: www.pcmag.com = Clutterville in the Firefox web browser
Now, either wait, click the the escape key, or click the circled X in the "Signup now…." pop up box. to bring the web page to the foreground of your browser. Now you'll see this: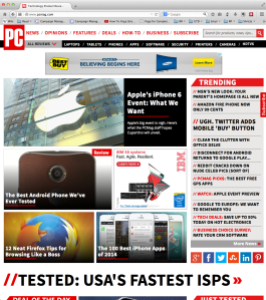 Source: www.pcmag.com in Firefox
Next, find an article like "AMAZON FIRE PHONE NOW ONLY 99 CENTS" and click on it. If you need help finding the article, follow the red arrow here:
Source: www.pcmag.com in Firefox
When the article comes up with all its fireworks of flash (thank you IBM!), it will look like this:
Source: www.pcmag.com in Firefox
Now, click on the Luxo Lamp icon in your browser. and you will see this:
Source: www.pcmag.com in Firefox, via Evernote Clearly
No flash advertisements. No advertisements of any kind. Just the pictures from the core of the article, and the text. Next, click the Elephant icon. This will save the article into your Evernote database. Don't worry, you can delete it easily, once you see it in Evernote.
Anyway, when you click on the Elephant icon you will be asked for your Evernote username and password. So get those out if you don't have them handy, and then fill in the dialog box. The dialog looks like this:
Enter your user name and password. If you have Evernote's two factor authentication turned on, then you'll see this additional prompt:
And you just need to fill in the numbers and click "Continue" and then your screen will look like this: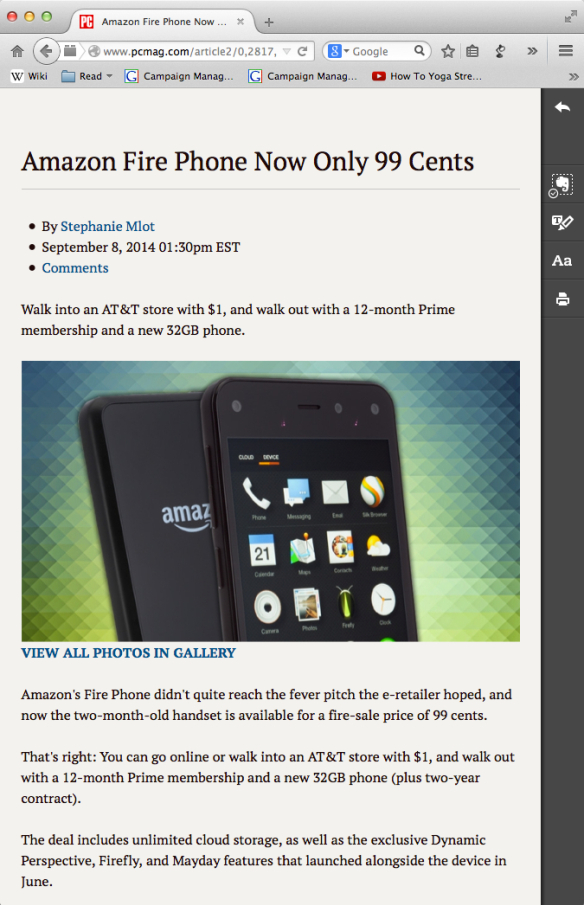 Where now we can have some fun. Click on the highlighter icon underneath the elephant icon at top right. Then, select the title of the article. Your page will look like this:
And if you open Evernote, and then synchronize it with your cloud database, the note will look like this:
And, the note will be editable!
You can use clearly to read notes, highlight them, and after you add new highlights, Evernote Clearly will re-synchronize the new highlights into the note in your Evernote database. Cool!
But … it gets better!
Not only can you strip annoyances from the web page, you can also set the default font size, and page style of the pages you read. To do this, click once on the "Aa" icon at middle right of the Clearly-processed web page:
You can pick the page style from "Newsprint" or "Notable" or "Night Owl" or "Custom" and the fonts as "Small" or "Medium" or "Large" and …
if you mistakenly highlight a passage (Sign of Genius!) you can mouse over the passage and a small circled x will appear that you can click to delete the highlighting. Here is large font size, newsprint, with the circled x appearing on "fire-sale price of 99 cents."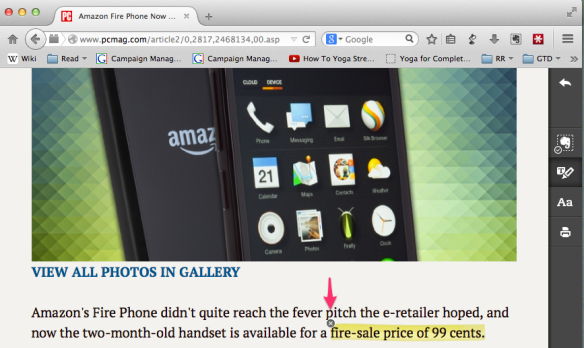 To highlight notes already in Evernote, select the text and if you are on a mac, type Ctrl + Command + H. If you are on a PC type Ctrl + Shift + H.
Evernote.com is constantly working on the highlighting to make it smarter. I'm hoping before long we will be able to highlight in multiple colors. And, that we will be able to insert sticky notes on top of the web pages we capture.
RestartGTD
Take the trouble to get Evernote Clearly working, and you will go a long way to restarting your Evernote GTD use. It is SO EASY to capture web pages in Evernote. Then, when you need to send a friend a link, you open Evernote on your computer, type in the two words that will search out the web page you are looking for, and then click the saved link on the page. The saved link is available in the note when you are not editing the note.
Click on the note at left, then click on the link that pops up over the top of the note. This will open the original web page, so you can see the link is still working. Then copy the link, and paste it into an email to your friend. Or tweet. Or Facebook post.
Once you have the most vital source of information (the web) functioning as an on-ramp for your Evernote database, I defy you to not use Evernote. And once you are using Evernote, your reference filing will get better. Better to the point where you are doing GTD reference filing.
Because reference filing is a capstone GTD skill. Evernote will pull you back into GTD and hold you there. Hold you because it is easier to do reference filing in Evernote, than to live in a blizzard of paper, browser book marks, and desk clutter.