Introduction
In the past week I've noticed problems with Evernote capturing from Web Clipper and Clearly. For example, go to this WIRED article on an artist who did a self portrait with GPS equipment and DHL taking the equipment around the world.
When I opened the article in Chrome for Mac, Evernote Web Clipper, and clicked Save:
Evernote said that it saved the clip: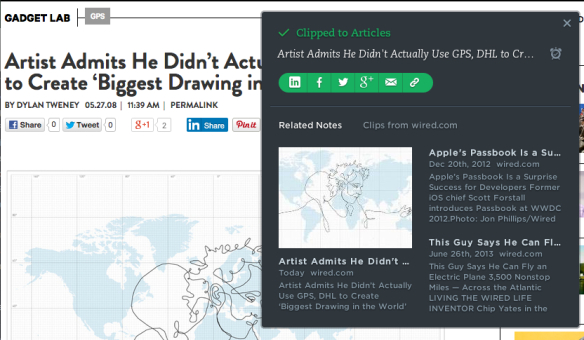 But … the clip did not appear in Evernote on my Mac after I synchronized.
WARNING!!!
GTD Evernote users, *might* want to check that web clippings are actually being captured. Just to be sure.
Fast Ways To Double-Check-Web Clipper:
When Web Clipper displays the confirmation that your note has been captured:
Click on the title of the article to open the note in Evernote, to make sure the note is there.
Or, instead of using Web Clipper, capture the note with Clearly. I've had no trouble with Clearly capturing notes this week.
This might be a problem of capture (from Web Clipper or Clearly) or it might be a problem of synchronizing. I'm using Evernote Mac 5.6.0 which I think is a beta release.