Kevin Smith has a nice list of 14 tricks to get more out of Evernote over at Business Insider. I love web sites like this where someone carefully takes one simple feature or problem that real users experience, and then explains/solves. Another web site like Business Insider only for Mac users, is Paul Horowitz's http://osxdaily.com/.
I recently discovered the simple pleasure of a trick in Evernote: Shortcuts. Shortcuts are the first menu item below "Announcements" at top left in the evernote client. Here is a view of both Windows and Mac Evernote clients showing their "Shortcut" areas: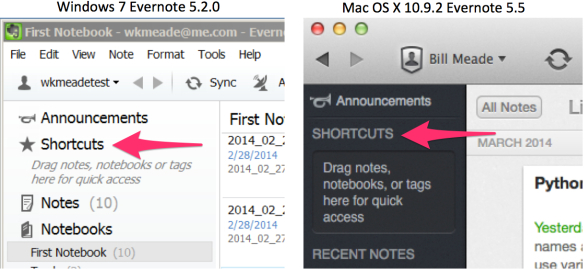 To use shortcuts in Evernote, all you have to do is drag the note or folder that you want to quickly access, on the word SHORTCUTS. For example, I've been having a lot of fun with Python and the statistics program R of late, and have developed cheat sheets of all the names, functions, methods, etc. In this screen snap you can see that I dragged my cheat sheets for R and Python and dropped them on SHORTCUTS.
Once you have a document in your SHORTCUTS you can open it in a separate window with a double click, or make it viewable within Evernote with a single click.
Notebooks work the same way, drag the notebook and drop it on SHORTCUTS and it will handy. Notebooks open the notes in a notebook inside Evernote, no matter whether you single or double click.
Enjoy!
Support RestartGTD by buying at Amazon with this link!
bill meade
Data researcher seeking team
see http://goo.gl/JkkEI8