As I was constructing the  GTD Time-Lapse post I mentioned in passing that Google Drive is not as reliable as Dropbox.
After I finished the post I went back and looked at Google Drive more carefully. In the beginning was Dropbox and everything was great except that I could not (then) put a file up and have many people download it.
I switched to Google Drive when I bought a Chromebook and drank the Google Apps Kool Aid. But, take a look at my experience with Google Drive:
Note that my Google Drive is named "Google Drive 2" … why? Great question!
Because, Google Drive sent me a "You Must Re Download you serfer of Google Apps" message. I renamed my original Google Drive "Old Google Drive" and then re-downloaded to "Google Drive 2" and didn't think much of it.
Good thing I saved Old Google Drive … or maybe not. Here are two folders that exist in both Google Drive 2, and Old Google Drive: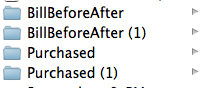 In Google Drive 2 the pictures I was looking for are in the (1) folders. In Old Google Drive, they are in the folders without (1) after them. Fun?
Here is where I could taunt about which techie team has the MIT folks:
(a) Dropbox which performs flawlessly
(b) Google Drive which hiccups
But I won't. :-)
Starting tonight, I'm migrating my digital stuff back to Dropbox.
bill
p.s., Unfortunately, RestartGTD is an unsponsored blog. Nobody compensated me to write this, with the possible exception of Amazon where you can buy that Fujitsu ScanSnap iX500 scanner that you've been waiting too long to pull the trigger on.
/* Fun Story*/
I paid to go to the David Allen seminar in Portland in November 2011. It was a great experience. Lots of chances to see what works for people to "get" GTD, and I figured out that I likely am a GTD black belt. This happened as a result of the leader asking "What have you all done to implement GTD?" And when everyone else was done, I told my story of using my Fujitsu ScanSnap to go paperless in 4 afternoons. At the next break, there were 10 people around me asking "What was that scanner you mentioned." Lots of people want to be paperless, but if you don't buy the infrastructure, you won't be able to do it. See the post on GET OFF THE PAPERLESS FENCE only buy the newer ScanSnap (link above in the p.s. of this post).